These paleo cinnamon muffins are a tasty and nutritious breakfast or snack that tastes just like dessert. They're sweet and moist with a cakey texture and loaded with cinnamon and vanilla flavour.

These are great if you're accommodating multiple dietary restrictions, because in addition to being paleo diet friendly, they're also gluten free, dairy free, grain free and refined sugar free.
Paleo Cinnamon Muffins – Key Ingredients

I wanted to make these gluten free, dairy free, paleo cinnamon muffins taste almost like a cinnamon roll, so the recipe calls for plenty of cinnamon and vanilla and the result was really delicious.

These muffins are banana based, but if bananas aren't your thing you could try substituting about 1 1/2 cups of apple sauce instead of the bananas  (I haven't tried that myself yet but I suspect it would work well and will definitely try that variation one of these days!).

If you've got a few bananas that are getting pretty spotty and almost overripe, go ahead and use them in this recipe. Very ripe bananas are perfect in baked goods like banana bread and banana muffins. 

This recipe calls for coconut flour, which is commonly used in paleo baking. It's higher in fibre and lower in carbohydrates than all purpose white flour, so it's a great healthy flour to use in a myriad of paleo baked goods. 

Using coconut flour really doesn't make these muffins taste coconutty at all, which is good because I wanted the flavours of the cinnamon and vanilla to be the most noticeable. 

Some optional additions you could throw in the batter at the end: walnuts (or any other nuts of your choosing), raisins, fresh or frozen berries, chopped up apples, or even chocolate chips. Add 1/2 cup of any or all of these if you feel so inclined and I'm sure the result will be delicious.

Add these gluten free cinnamon muffins to your rotation of healthy on-the-go snacks to pack for school for the kids (or work for the grownups). You can bake a batch and serve them up fresh, or store them in the freezer and thaw them out as needed. 
For another gluten free, dairy free, and paleo baked good, check out this paleo sweet potato bread. Or try these chocolate paleo muffins. They're easy to make and taste like dessert, despite being quite nutritious.
Paleo Cinnamon Muffins
These paleo cinnamon muffins are gluten free, dairy free, and great served as a snack or for breakfast.
Ingredients
3

bananas

6

eggs

1/2

cup

raw honey

1/3

cup

extra virgin olive oil

2

teaspoons

vanilla extract

2

teaspoons

ground cinnamon

1

cup

coconut flour

1

teaspoon

baking soda
Instructions
Preheat the oven to 350 degrees Fahrenheit.

Add the bananas, eggs, raw honey, extra virgin olive oil, vanilla extract and cinnamon to a blender or food processor and blend/process until smooth and well mixed (alternatively you can use a mixing bowl and just mash the bananas by hand and whisk the eggs by hand).

Transfer to a mixing bowl and add the coconut flour and baking soda.

Mix well, then spoon the batter into a muffin tray with paper liners.

Bake at 350 degrees Fahrenheit in a preheated oven for 33 minutes.

Makes 12 gluten free cinnamon muffins.
Notes
For a little extra sweetness and crunch, feel free to add 1/2 cup each of raisins and walnuts or pecans to this recipe.
Nutrition
Calories:
192
kcal
|
Fat:
8.9
g
Paleo Cinnamon Muffins Nutritional Information: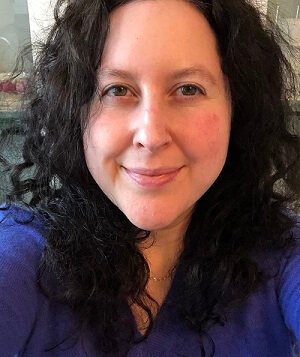 I'm Jennifer, the author at A Sweet Alternative. I'm a home cook with a passion for creating gluten free and refined sugar free recipes that call for nutritious ingredients.