These orange brownies are so decadent. I've always loved the combination of chocolate and orange and my goal with this recipe was to create a refined sugar free and gluten free vegan chocolate brownie with a fudgy, gooey texture and plenty of orange flavour.
These orange brownies are sweet, chocolaty and bursting with refreshing orange zest flavour. If you don't like the combo of chocolate and orange, you can simply leave out the orange zest and you're left with a more traditional vegan chocolate brownie.
Vegan Orange Brownies – Ingredients & Substitutions

These brownies are sweetened only with date paste, so they're refined sugar free. They also happen to be gluten free because I opted to use oat flour (which I make by filling my food processor with oats, then processing for two minutes). I tend to make a big batch of oat flour and store it in the pantry or fridge so I always have plenty of oat flour on hand to bake with.

My favourite oil to bake with is actually extra virgin olive oil. I love how the flavour of the olive oil compliments the cocoa powder. Olive oil is a great option for vegan baking, but feel free to substitute any other oil you prefer.

I opted to use flax eggs in this orange brownies recipe, because they're so easy to make and they work well as an egg substitute in vegan baked goods. To make a flax egg, simply mix 1 tablespoon of ground flax seeds with 3 tablespoons of water, then let that mixture thicken in the fridge for ten minutes. The flax eggs give this recipe that gooey texture I was going for.

These orange brownies would make a great dessert for the Christmas or any other special occasion, especially if you're entertaining people with different dietary restrictions since this recipe is vegan, gluten free, dairy free, and refined sugar free. They also freeze really well so go ahead and make them in advance.
For another vegan, gluten free dessert idea, try this refined sugar free chocolate cake recipe. It's rich, chocolaty, and so delicious.

Vegan Orange Brownies
These vegan orange brownies are gluten free, refined sugar free, and vegan.
Ingredients
2

cups

date paste

(see my date paste recipe for instructions)

1/2

cup

olive oil

1

teaspoon

vanilla extract

2

flax eggs

(mix 2 tablespoons of ground flaxseeds with 6 tablespoons of water, then let the mixture chill in the fridge for 10 minutes)

The zest of 1 orange

1/2

cup

cocoa powder

3/4

cups

oat flour

2

teaspoons

baking powder

Pinch

salt
Instructions
In a large mixing bowl add the date paste, flax eggs, vanilla, orange zest, olive oil, salt, and cocoa powder and mix thoroughly to combine.

In a separate bowl, mix the oat flour and baking powder to combine, then add that to the other bowl and mix thoroughly.

Pour the batter into a greased or parchment lined 9 x 13 inch baking dish.

Bake in a preheated oven at 325 degrees Fahrenheit for 45 minutes.

Makes 15 orange brownies.
Nutrition
Calories:
155
kcal
|
Fat:
7.8
g
Orange Brownies Nutritional Information: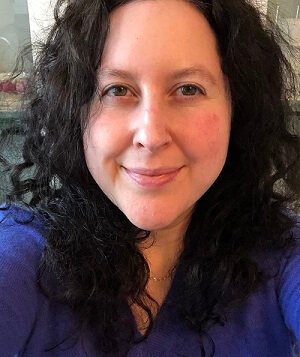 I'm Jennifer, the author at A Sweet Alternative. I'm a home cook with a passion for creating gluten free and refined sugar free recipes that call for nutritious ingredients.