These paleo banana pancakes turned out sweet, thick, fluffy, and delicious. They're gluten-free, dairy-free, and perfect for breakfast or brunch served with maple syrup. Or add a handful of fresh berries, a drizzle of almond butter, or some dark chocolate chips to these paleo coconut flour pancakes.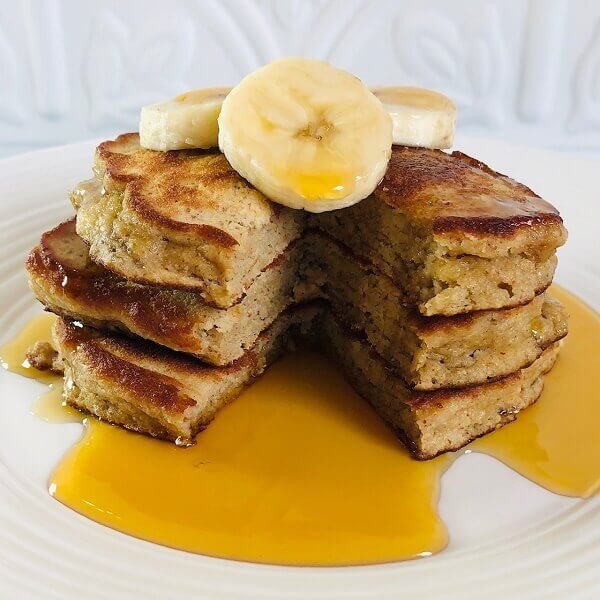 Main ingredients
These pancakes call for two large bananas. If the bananas you have are quite small, you can use 2 1/2 or even 3 bananas. I chose bananas that were ripe but not overly ripe, because I didn't want the pancakes to be too sweet. If you prefer your pancakes on the sweeter side, choose bananas that are riper with plenty of brown spots.
I used coconut flour (my go-to grain-free flour) in these pancakes. Coconut flour has a subtle coconut flavour that pairs perfectly with the bananas in this recipe.
This recipe calls for almond butter which helps bind the batter and gives the pancakes a satisfying texture. I tested these without the almond butter and the end result was eggy and soggy.
If you don't have almond butter (or need to avoid it for allergy reasons) you could try using cashew butter, walnut butter, tahini, or sunflower seed butter instead and I suspect they will work (but I haven't tested those substitutions).
To give these paleo pancakes some additional flavour I added vanilla extract, cinnamon, and nutmeg. You can omit any of these if you don't have them on hand and the pancakes will still be tasty, but they're even better if you include them. If you're a big fan of cinnamon you could even double the amount for an extra hit of cinnamon flavour.
How to make them
These banana coconut flour pancakes are easy to whip up for a comforting weekend breakfast or brunch. Start by mashing your banana in a large mixing bowl. I used a potato masher, but the back of a fork works too.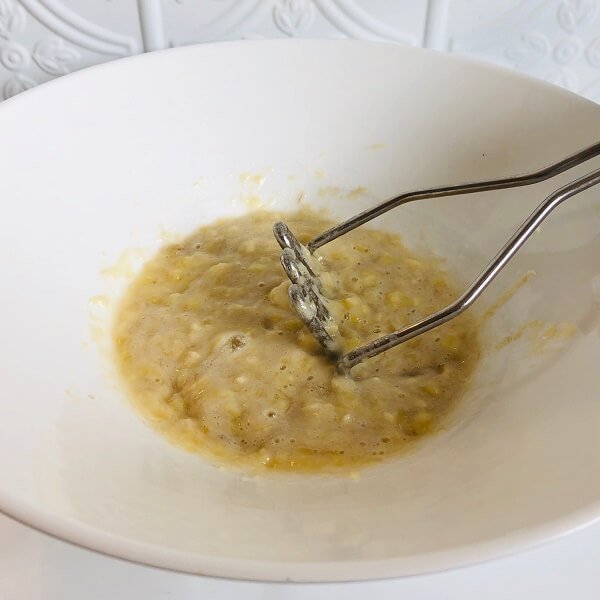 Next you'll add the eggs, almond butter, apple cider vinegar, vanilla, cinnamon, nutmeg, and salt. Now's the time to whisk well to ensure a fluffy end result. Then add the coconut flour and baking soda, and whisk again to incorporate those dry ingredients. Be careful not to over mix at this point, but do make sure there are no lumps from the coconut flour.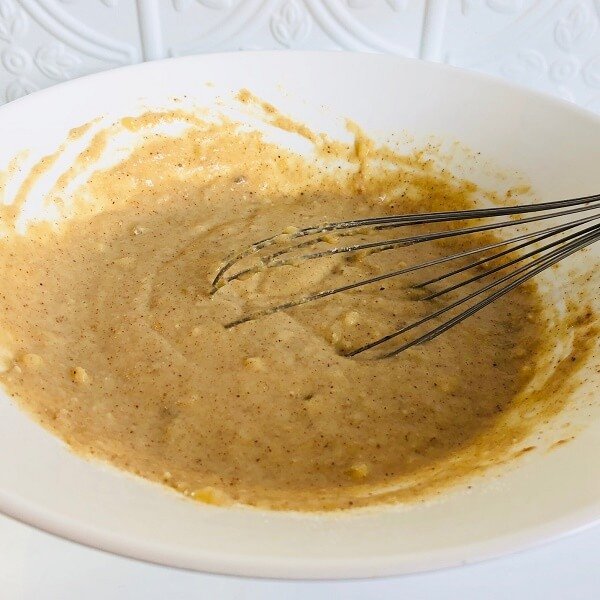 The next step is to heat up a non stick frying pan at low-medium heat with some coconut oil. Once the pan is hot, you're ready to cook up the first batch of pancakes. Don't overcrowd the pan – three or four pancakes at a time is perfect.
Use about three tablespoons of batter per pancake and be sure to spread the batter out a bit with your spoon (the batter is thicker than traditional pancake batter so you'll need to spread it otherwise the pancakes will be too thick).
Once bubbles start to form, the pancakes are ready to flip. Cook the other side for a few minutes and they're done.
Keep a close eye on these coconut flour pancakes because they do tend to burn easily. For optimal results, don't walk away from the stove. Repeat until all the batter is used up.
You can keep the pancakes warm in the oven if you like (I personally never bother with that because I find them just as tasty at room temperature). Alternatively, you can use multiple pans at the same time to speed things up and get these tasty paleo banana pancakes on the table.
What to serve them with
Top these paleo banana pancakes with a some banana slices and a drizzle of maple syrup. Or to take them to the next level, serve them with these golden brown pan fried peaches instead.
More breakfast & brunch recipes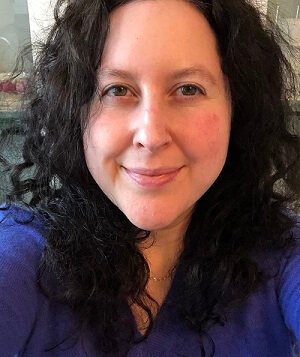 I'm Jennifer, the author at A Sweet Alternative. I create simple, gluten-free recipes made with nutritious ingredients.