This creamy vegan baked polenta is the perfect gluten-free side dish to go with any plant-based stew instead of the usual mashed potatoes. It's also great served with some sauteed mushrooms and fresh parsley, or top it with a big spoonful of marinara sauce and some fresh basil. This polenta bake has a thick, satisfying, creamy texture and a neutral flavor that won't get in the way of whatever else you're serving it with.
Main ingredients in this polenta bake
The main ingredient in polenta is cornmeal. Be sure to use cornmeal that is either a medium grind or coarse grind. If you choose a fine grind, the end result will be a gluey, pasty polenta that isn't particularly appetizing.
Polenta is often a bit on the bland side, so I opted to add some fresh garlic and some dried herbs to this recipe to give it more flavor than your basic polenta recipe. I went with dried thyme and rosemary, but you can substitute your preferred dried herbs.
To give this polenta bake a creamy texture, I used unsweetened almond milk. You could omit the almond milk and just use water if you prefer, but the texture won't be as creamy.
You can also substitute your preferred plant-based milk if you require a nut-free version of this polenta or just aren't a fan of almond milk.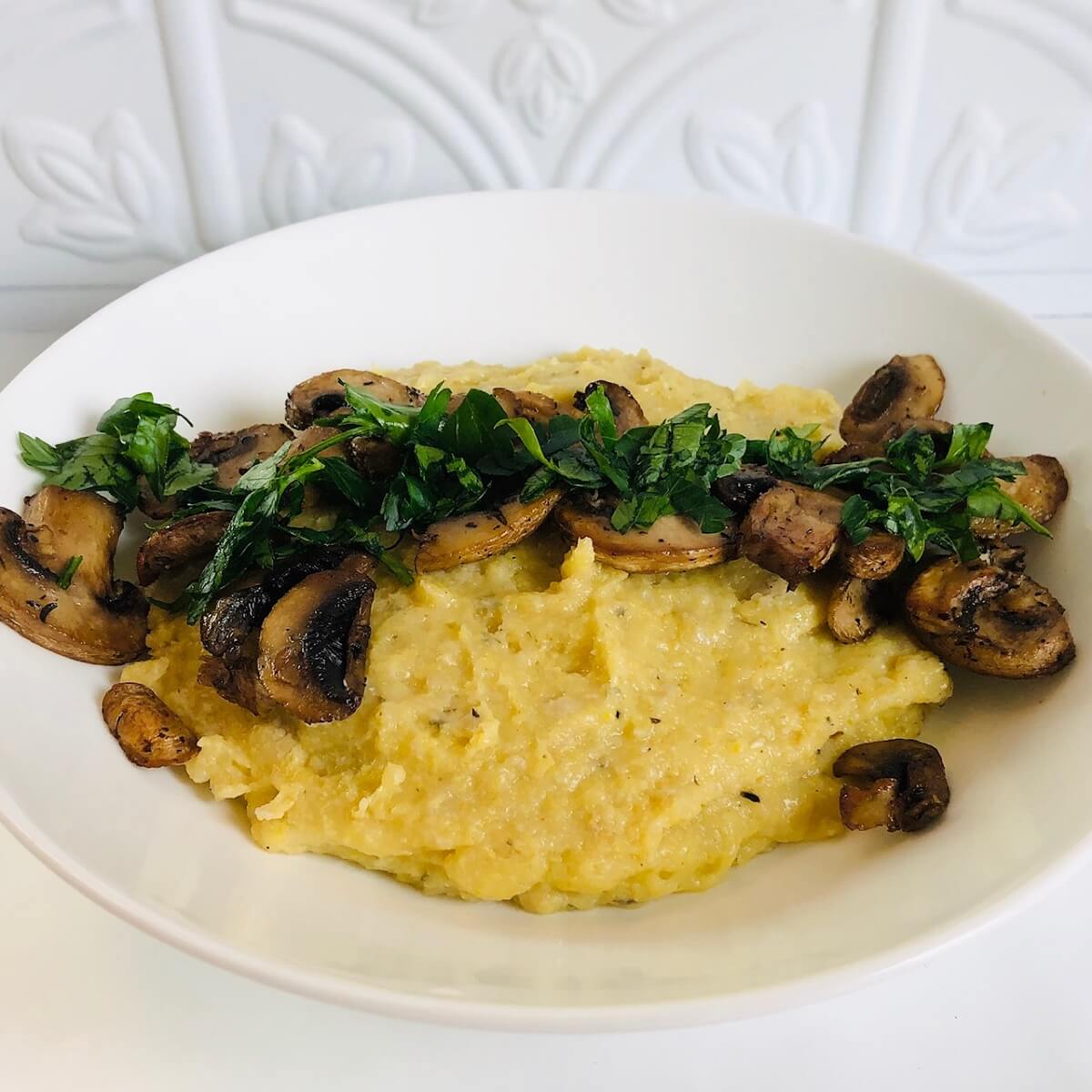 How to make this vegan baked polenta
Start by whisking together all of the ingredients except for the olive oil (that's for greasing the baking dish) then bake for an hour, pausing once at the halfway mark to whisk the polenta well. Keep baking and then whisk once more when it's done to incorporate any lumps.
This vegan baked polenta is quite thick and creamy. I wanted it to have a consistency similar to that of mashed potatoes, so it would make a nice bed for saucy dishes such as stews. If you prefer your polenta on the runnier side, go ahead and add an extra cup of water or almond milk.
Polenta is traditionally made on the stove top and requires near constant stirring to ensure it doesn't get lumpy. I find that method of preparing polenta is too much of a pain. I'd rather just pop it in the oven, set a timer to whisk it once when it's halfway done, then give it another good whisking when it's finished baking.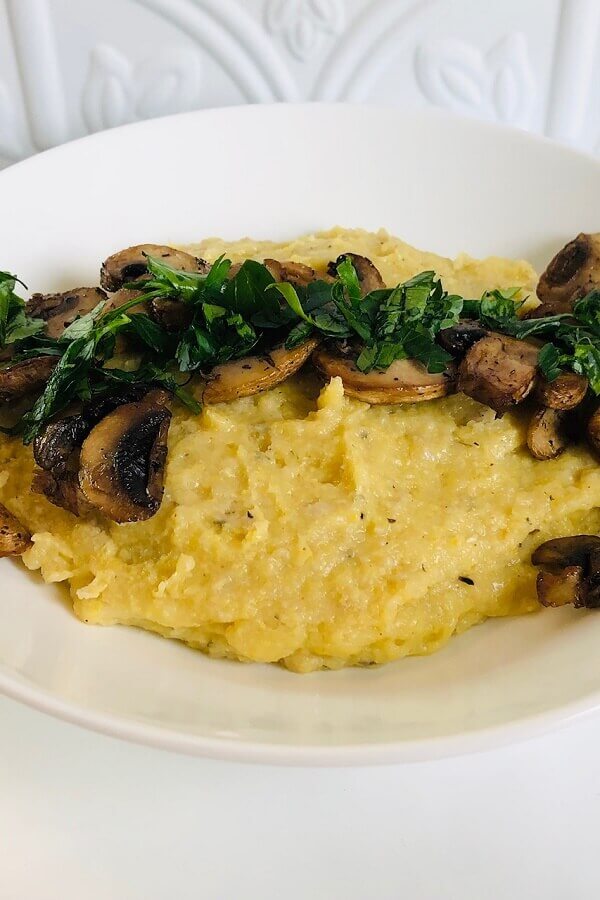 What to serve this with
This polenta would be delicious served with these flavor-loaded roasted onions. And a sprinkle of these savory spiced sunflower seeds would be a tasty garnish to add immediately before serving.
More gluten-free recipes to try
This pesto quinoa is full of bright, fresh flavors.
This baked okra is perfect when you're tired of the same old vegetable side dishes.
These stuffed dates have the perfect balance of sweet and savory flavors.
Vegan Baked Polenta
This creamy vegan baked polenta is the perfect gluten-free side dish to serve with vegan stews or other saucy mains. This polenta bake is perfect for entertaining.
Ingredients
1

cup

cornmeal

2

cups

unsweetened almond milk

(or substitute your preferred plant-based milk)

2

cups

water

1

tablespoon

extra virgin olive oil

(to grease the baking dish)

1

teaspoon

chopped fresh garlic

(or substitute 1/2 teaspoon garlic powder)

3/4

teaspoon

salt

1/8

teaspoon

black pepper

1/4

teaspoon

dried thyme

1/4

teaspoon

dried rosemary
Instructions
Preheat the oven to 375 degrees Fahrenheit.

Add the cornmeal, almond milk, water, garlic, salt, pepper, thyme, and rosemary to a large mixing bowl and whisk well.

Grease a 9 x 13 inch baking dish (or similarly sized dish) with olive oil, then pour in the polenta mixture.

Bake at 375 degrees Fahrenheit for 60 minutes, pausing halfway to whisk the polenta to incorporate any lumps.

Remove from the oven after 60 minutes and whisk once more to ensure a smooth texture.

Serve hot, or store in an airtight container in the fridge for a few days and reheat before serving.

Makes 6 servings of vegan baked polenta.
Notes
This vegan baked polenta makes an excellent side dish paired with stews. Or top it with some sautéed mushrooms and fresh parsley or a spoonful of marinara sauce and fresh basil.
This polenta bake is quite thick, so if you prefer it runnier, you can add an extra cup of almond milk or water before baking.
Nutrition
Calories:
135
kcal
|
Carbohydrates:
20
g
|
Protein:
3
g
|
Fat:
5
g
|
Saturated Fat:
1
g
|
Sodium:
404
mg
|
Potassium:
85
mg
|
Fiber:
3
g
|
Sugar:
1
g
|
Vitamin C:
1
mg
|
Calcium:
103
mg
|
Iron:
1
mg