This gluten free berry crisp recipe is made without oats, which technically makes it a berry crumble. A quick google search has taught me that crisps generally contain oats, while crumbles usually don't. But despite the fact that this berry crisp does not contain any oats, it will still be referred to as a crisp in this blog post because that sounds nicer, fresher, and more hopeful. Do not ask me what a cobbler is.
Gluten Free Berry Crisp – Main Ingredients & Substitutions

I expect you now have some questions such as "What did you use in this gluten free berry crisp instead of oats?". I used cassava flour instead of oats. And now you're either nodding excitedly in support and agreement, or wondering what the heck cassava flour is.

Cassava is a root vegetable not unlike a yam. Cassava flour is made from peeled, dried, and then ground cassava root. It is gluten free and grain free, yet has a nice soft powdery texture which isn't too different from regular wheat flour. I also like that cassava flour is quite nutrient dense.

I used a combination of blueberries and blackberries in this gluten free berry crisp recipe, but I think it should be safe to experiment with whatever fruit you have on hand and whatever is seasonal. The recipe should turn out just fine if you substitute raspberries, cherries or even a strawberry rhubarb blend. I imagine substituting chopped up apples instead of berries and a sprinkle of cinnamon would work well too.
For another fruit based dessert, try this gluten free fruit cake recipe. It's refined sugar free, dairy free, easy to make, and turned out so delicious.

Gluten Free Berry Crisp
This gluten free berry crisp is gluten free, easy to make, and tastes like such a treat.
Ingredients
For the crisp topping:
1/2

cup

pecans

1/2

cup

cassava flour

3

tablespoons

coconut sugar

1/4

cup

unsalted butter

(straight out of the fridge, then cut into pieces)

1/2

teaspoon

lemon zest

Pinch

of salt
For the berry filling:
4

cups

fresh berries

(I used 3 cups blueberries and 1 cup blackberries)

3

tablespoons

coconut sugar

1

tablespoon

cassava flour
Instructions
Add the pecans, 1/2 cup cassava flour, 3 tablespoons coconut sugar, butter, lemon zest, and salt to a food processor and process with 10 quick on/off pulses.

In a mixing bowl, add the berries, 3 tablespoons coconut sugar, and 1 tablespoon cassava flour and stir to combine.

Pour that berry mixture into an 8 x 8 inch baking dish.

Sprinkle the crisp topping on top of the berry mixture in an even layer.

Bake at 375 degrees Fahrenheit for 45 minutes.

Makes 6 servings of berry crisp.
Notes
You can use any combination of berries in this recipe. Cherries or raspberries would work well as substitutes or additions, just keep the total amount of berries at 4 cups.
Nutrition
Calories:
304
kcal
|
Fat:
16
g
Nutritional Information: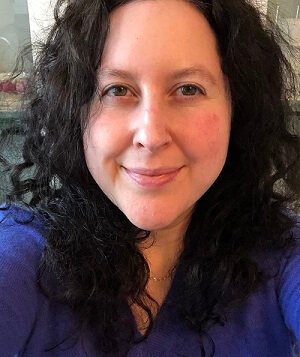 I'm Jennifer, the author at A Sweet Alternative. I'm a home cook with a passion for creating gluten free and refined sugar free recipes that call for nutritious ingredients.