If you're craving a simple salad dressing that balances sweet and savory, this maple vinaigrette fits the bill. This dressing is perfect tossed with your favorite green salad ingredients. Add a sprinkling of chopped nuts and you've got a festive salad that will disappear quickly. This maple syrup salad dressing is quick and easy to make too.
Main ingredients
This vinaigrette calls for just a few simple ingredients that you probably have in your pantry. Every vinaigrette calls for an oil and a vinegar – I opted to use extra virgin olive oil and apple cider vinegar, but you can substitute whatever type of oil or vinegar you prefer.
Pure maple syrup is the star of this recipe and adds a complex sweetness to the vinaigrette. Be sure to use real maple syrup as opposed to maple flavor table syrup.
The maple syrup and Dijon mustard act as emulsifiers and help thicken the dressing nicely. The velvety consistency of this maple dijon dressing coats salad greens perfectly.
I wanted a good balance of both savory and sweet flavors in this recipe, so I opted to include some chopped fresh garlic to balance the sweetness from the maple syrup. You can substitute some finely chopped chives or onion if you prefer. Or even some garlic powder or onion powder if you don't have the fresh stuff. The key is to include something from the garlic or onion family in order to achieve that perfect balance of sweet and savory that's perfect for a winter or fall salad.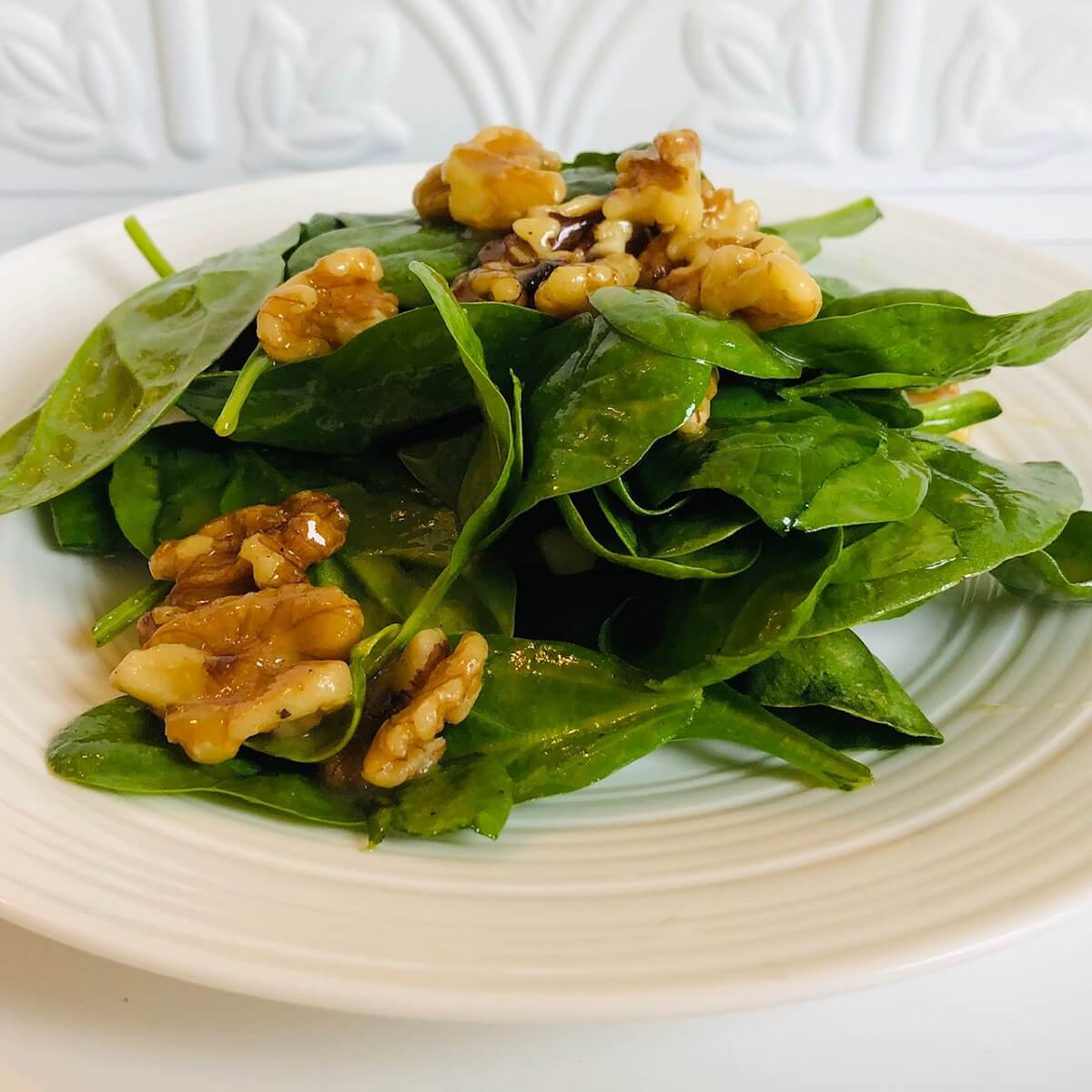 Method
This maple vinaigrette is so easy to prepare. Add the extra virgin olive oil, apple cider vinegar, maple syrup, Dijon mustard, chopped garlic, salt, and black pepper to a glass mason jar and seal the lid tightly. Or use any type of container that has a well fitted lid. You're going to be mixing the dressing by shaking it so it's important the lid fits well or you'll have a mess to clean up.
Once the ingredients are added and the jar is sealed, shake it vigorously for about a minute or until the dressing has thickened up nicely. Alternatively, you could use a blender to mix the ingredients but I prefer the ease of just shaking everything up in a jar. One less thing to clean.
This dressing is perfect tossed with kale salad, spinach, or arugula salad (the slight bitterness of the arugula pairs well with the sweetness of the maple syrup). Any type of lettuce or greens will do, so use whatever you have on hand.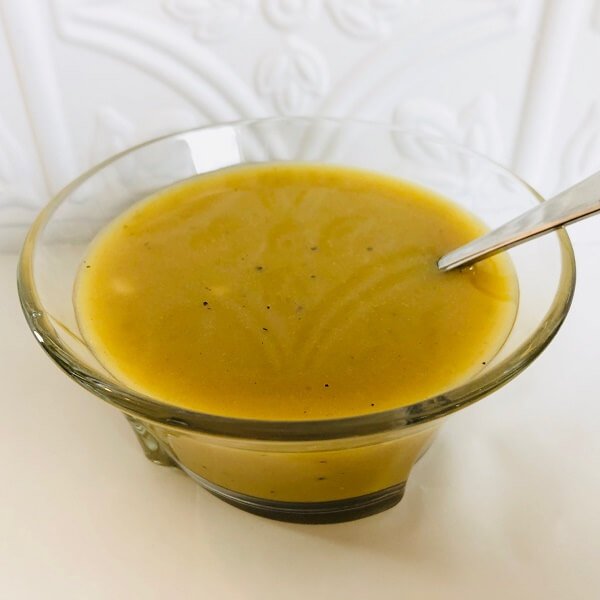 This maple syrup salad dressing is also perfect for drizzling on top of roasted vegetables such as beets or sweet potatoes. Or toss those roasted veggies in with some salad greens and chopped nuts, then mix everything together with the vinaigrette and you've got a hearty, filling, vegan salad.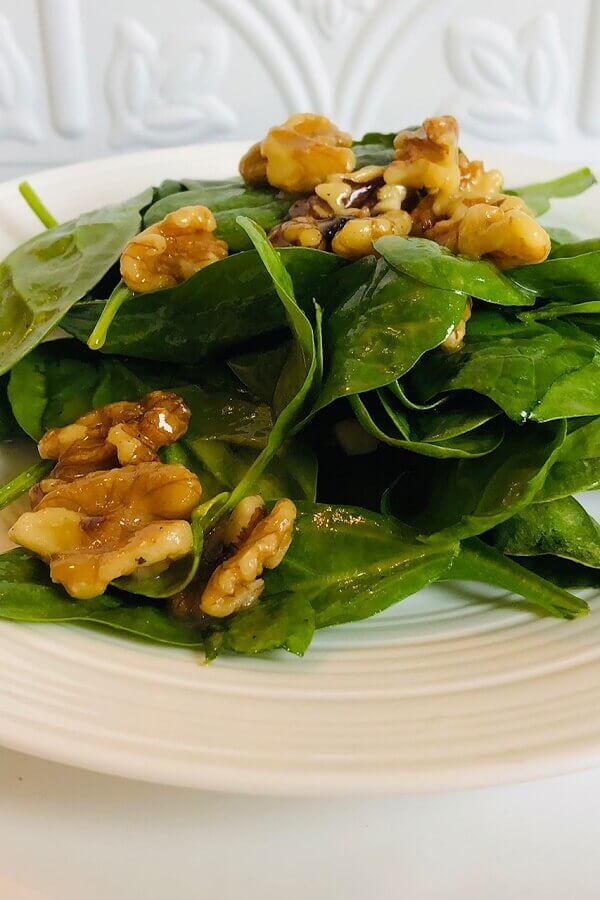 More salad ideas
Maple Vinaigrette
This maple vinaigrette recipe has the perfect balance of savory and sweet flavors. Toss this maple syrup salad dressing with your favorite greens for an easy, tasty, and nutritious first course or side dish.
Ingredients
1/2

cup

extra virgin olive oil

(or substitute your preferred oil)

1/4

cup

apple cider vinegar

(or substitute your preferred vinegar)

3

tablespoons

maple syrup

2

tablespoons

Dijon mustard

1/2

teaspoon

chopped garlic

(or substitute 1/4 teaspoon garlic powder)

1/2

teaspoon

salt

1/8

teaspoon

black pepper
Instructions
Add all the ingredients to a mason jar and cover tightly with the lid (or use any type of container that can be sealed well with a lid).

Shake well for about one minute or until the mixture thickens and all the ingredients are well combined.

Use immediately or store in the fridge for up to a week.

Makes slightly more than 1 cup (approximately 8 servings) of maple vinaigrette.
Notes
Store this maple vinaigrette in an airtight container in the fridge for up to a week.
Nutrition
Serving:
2
Tablespoons
|
Calories:
144
kcal
|
Carbohydrates:
5
g
|
Protein:
1
g
|
Fat:
14
g
|
Saturated Fat:
2
g
|
Sodium:
189
mg
|
Potassium:
28
mg
|
Fiber:
1
g
|
Sugar:
5
g
|
Calcium:
10
mg
|
Iron:
1
mg
I'm Jennifer, the author at A Sweet Alternative. I create simple recipes made with nutrient-dense ingredients.