This paleo mug cake made in the microwave is a quick and easy dessert recipe for one. It's also gluten free, dairy free, and refined sugar free. It's tasty eaten warm (but better let it cool for a couple of minutes before digging in after the microwave beeps).
Main Ingredients
This microwaveable mug cake calls for just six ingredients (well, seven if you count "pinch of salt"). I haven't tested any substitutions for this recipe yet so I recommend following the recipe exactly for optimal results.
To keep this recipe grain free and gluten free, I opted to use coconut flour. I love the hint of coconut flavor it imparts. Coconut flour is a staple of paleo baking and I always keep my pantry stocked with it. So far I haven't had any trouble finding it at my local grocery store, but it can also be ordered online.
I chose coconut oil as the fat in this mug cake. It's another popular choice used in many paleo dessert recipes because it's dairy free. I've grown to love the flavor of coconut oil in baked goods so it's been my go to choice for oil lately.
The sweetener in this recipe is maple syrup. I love the complex sweetness of maple and think it complements the chocolaty flavor of the cocoa powder as well as the vanilla extract. Be sure to use pure vanilla extract (as opposed to artificial vanilla extract).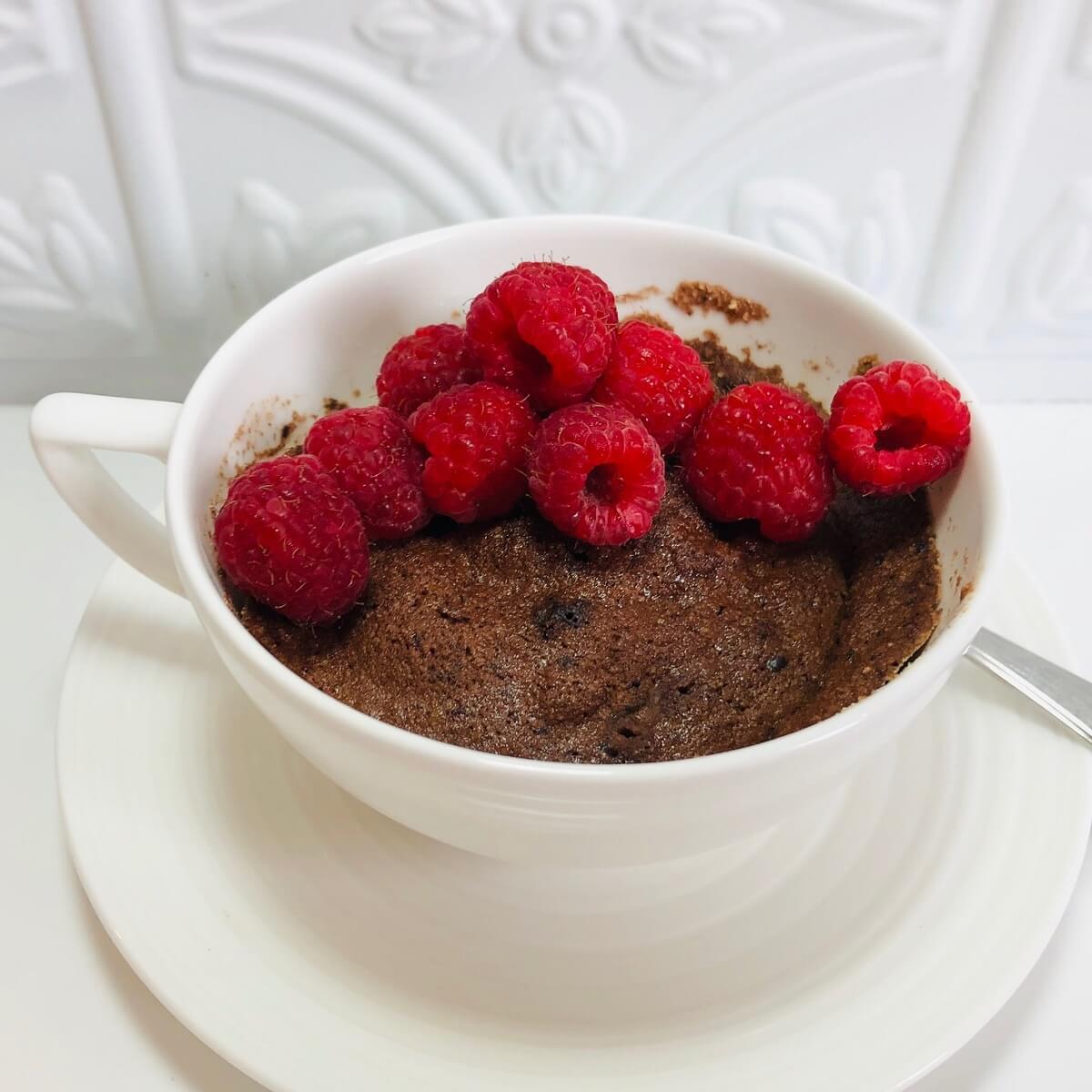 Method
This paleo chocolate mug cake is so quick and easy to make. Technically you don't even have to use a mug – I actually used a microwave safe teacup. A smallish microwave safe bowl would work too.
Start by melting some coconut oil in the microwave in your mug. Once it's melted, swirl it around the sides of the mug a bit to grease it.
Allow the coconut oil to cool for a couple of minutes, then add all the ingredients except the coconut flour and whisk well with a fork (or a miniature whisk if you happen to have one of those). I like to mix up the ingredients directly in the mug – one less dish to wash.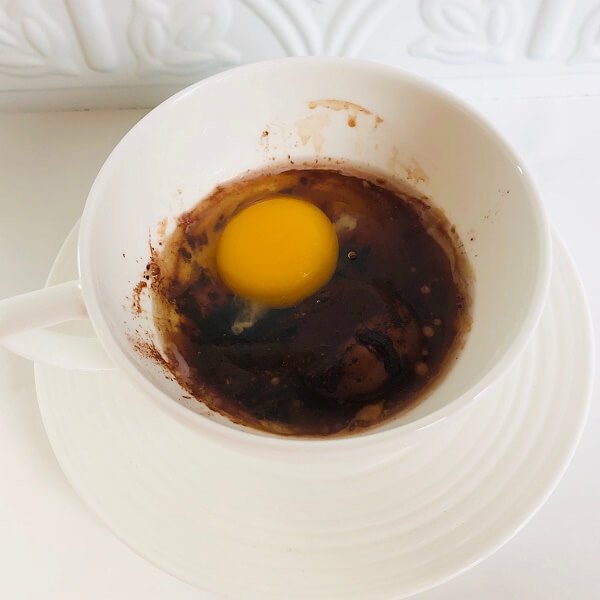 Next you'll add the coconut flour and whisk once more until the batter is thick and smooth.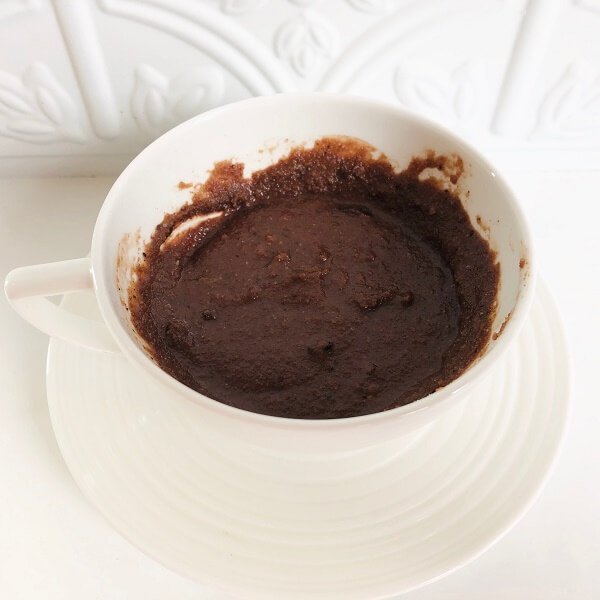 Pop it in the microwave for 90 seconds or until the cake is cooked through and the top doesn't appear at all liquidy. Microwaves vary in strength so if after 90 seconds the top looks a bit liquidy, keep microwaving and checking every 15 seconds to see if the top looks solid. As soon as it appears solid it's done. Don't overcook once it's solid or the cake will be a bit dry.
Be sure to let this paleo mug cake cool for a few minutes before digging in. Some optional toppings for this coconut flour chocolate mug cake include whipped coconut cream, fresh berries, a handful of paleo chocolate chips, or a drizzle of this gooey paleo frosting (which basically tastes like hot fudge sauce).
More grain-free recipes
Paleo Mug Cake
This paleo mug cake is an easy dessert for one that's made in the microwave.
Ingredients
2

tablespoons

coconut flour

1 1/2

tablespoons

maple syrup

1

egg

1

tablespoon

cocoa powder

1

teaspoon

coconut oil

1/2

teaspoon

vanilla extract

Pinch

of salt
Instructions
Melt the coconut oil in the microwave (approximately 40-50 seconds).

Swirl the melted coconut oil around the sides of the mug to grease the sides.

Allow the coconut oil to cool for a couple of minutes before adding the maple syrup, egg, cocoa powder, vanilla, and salt, then whisk well with a fork or miniature whisk. You can mix the ingredients directly in the mug or use a separate bowl if you prefer.

Microwave for 90 seconds, then check to see if the top of the cake appears solid. If it's solid then it's ready, but if it appears at all liquidy then continue to microwave and check every 15 seconds until the top is solid (microwaves vary in strength so it's important to use this method to ensure the cake is properly cooked).

Let cool for a few minutes before serving.
Notes
Optional garnishes for this paleo mug cake include fresh berries, dark chocolate chips, and whipped coconut cream.
Nutrition
Serving:
1
mug cake
|
Calories:
255
kcal
|
Carbohydrates:
32
g
|
Protein:
8
g
|
Fat:
11
g
|
Saturated Fat:
7
g
|
Cholesterol:
164
mg
|
Sodium:
96
mg
|
Potassium:
204
mg
|
Fiber:
7
g
|
Sugar:
19
g
|
Vitamin A:
238
IU
|
Calcium:
57
mg
|
Iron:
2
mg
You might also like
This vegan microwave cookie is a nutritious treat that's quick and easy to prepare.
I'm Jennifer, the author at A Sweet Alternative. I create simple recipes made with nutrient-dense ingredients.