These vegan hasselback sweet potatoes are a delicious gluten-free side dish perfect for Christmas, Thanksgiving, or any other festive occasion. They're easy to make and are ideal for entertaining, but they also work well alongside a simple meal with no special occasion required.
Hasselback potatoes have little slits cut most of the way down, while keeping the bottom part of the potato intact. These slits serve a couple of purposes. First, they allow the sweet potatoes to fan out in a way that looks cute. Also, they provide additional crevices for the herb flavored olive oil to drip down into, which makes for a particularly flavorful sweet potato.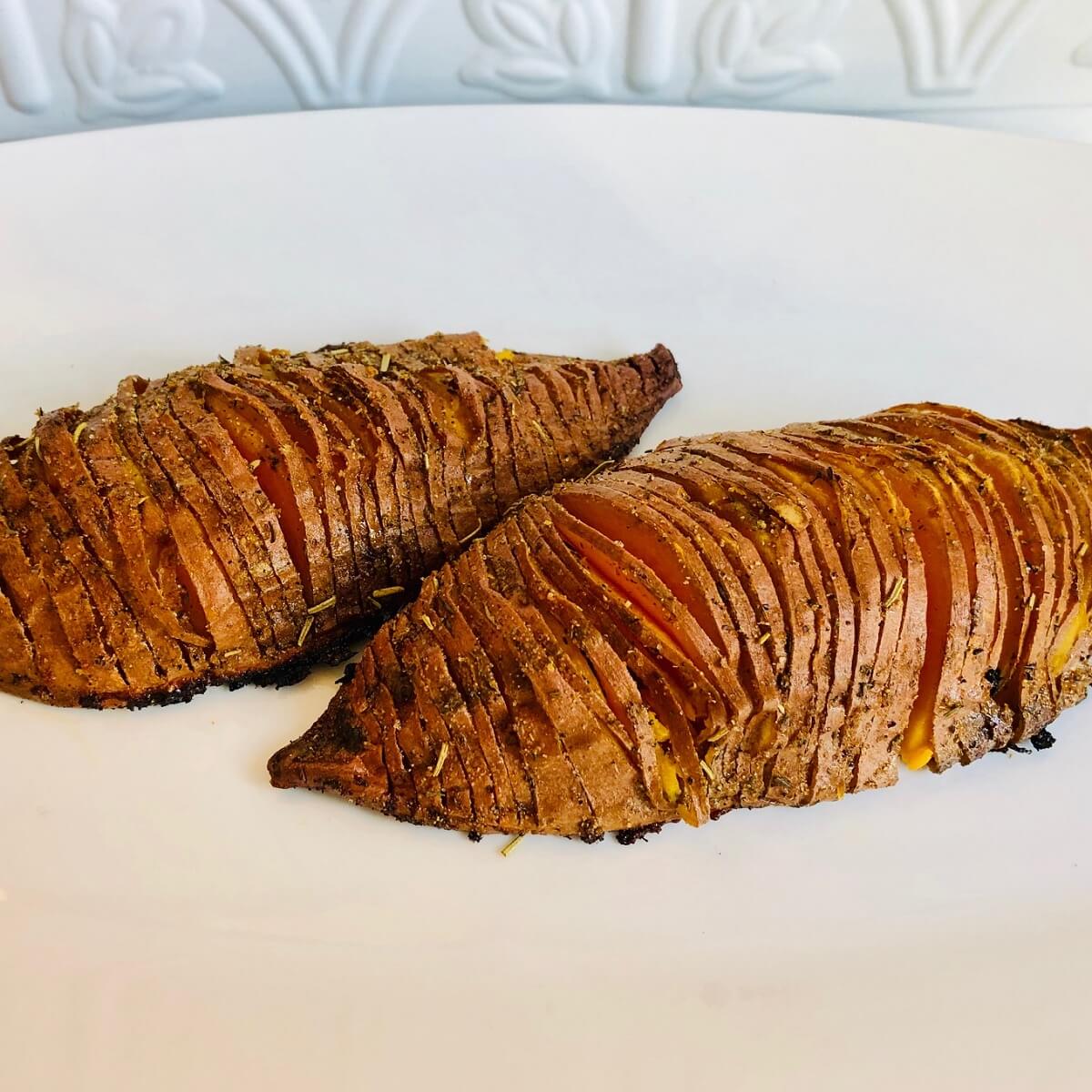 Preparing the potatoes
There are a couple of tricks to getting these sweet potatoes to turn out perfectly. The first is to begin by slicing the sweet potatoes lengthwise, especially if they're on the larger side. If your sweet potatoes are particularly small, you can skip that step and leave them whole.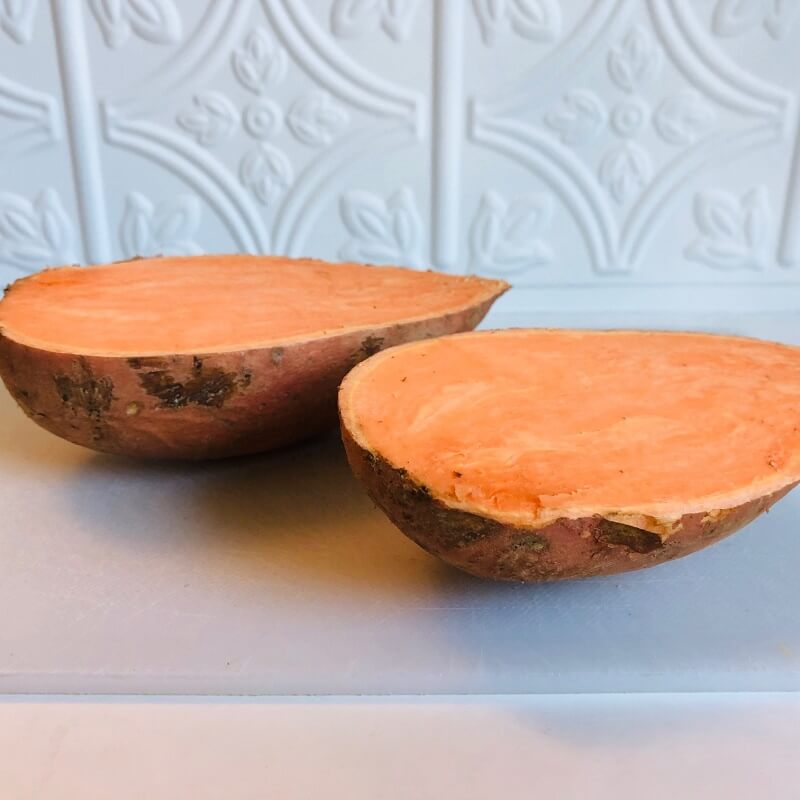 The other trick is to use something to stop you from cutting all the way through the sweet potatoes when you're making the little slits. I like to use stainless steel drinking straws and lay one on either side of the sweet potato. That way I can use a heavy knife and the palm of my hand to firmly push the knife down on the sweet potato to make each cut without worrying about accidentally cutting all the way through. Chopsticks would work equally well. Alternatively you could use the handle sides of a couple of wooden spoons.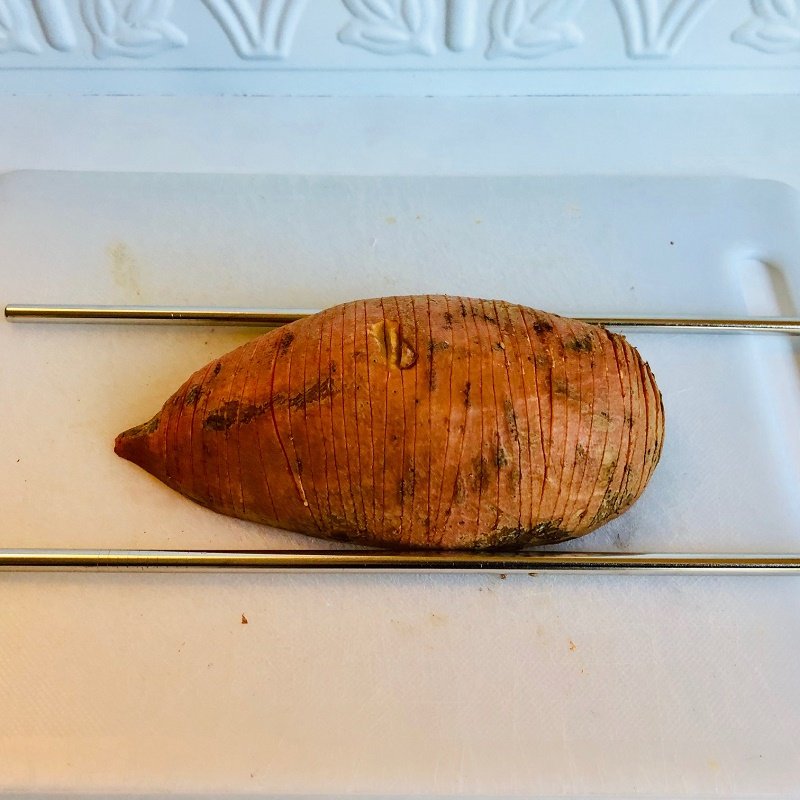 Main ingredients & substitutions
I kept this recipe simple by using dried herbs that I generally have on hand, but you could substitute finely chopped fresh herbs instead. I think the combination of thyme, rosemary, and sage is perfect in this recipe because those herbs add a warm, woodsy flavor that balances nicely with the sweetness of the sweet potatoes.
I prefer to use extra olive oil in this recipe but you can substitute whatever oil you prefer in this vegan hasselback sweet potatoes recipe.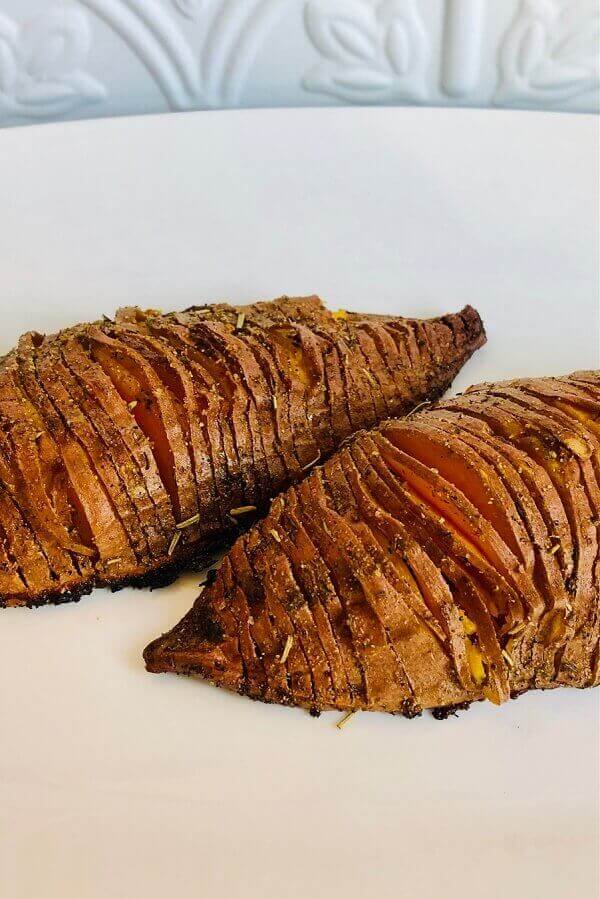 More gluten-free vegan recipes
Vegan Hasselback Sweet Potatoes
These vegan hasselback sweet potatoes are a festive and delicious gluten-free side for Thanksgiving or Christmas.
Ingredients
4

sweet potatoes

2

tablespoons

extra virgin olive oil

1/4

teaspoon

garlic powder

1/4

teaspoon

dried thyme

1/4

teaspoon

dried sage

1/4

teaspoon

dried rosemary

1/4

teaspoon

black pepper

1/4

teaspoon

salt
Instructions
Cut the sweet potatoes in half, lengthwise.

Place one of the sweet potato halves on a cutting board and lay stainless steel straws, wooden spoons, or chopsticks on either side of the sweet potato (see the picture above in the post).

Make small, even slices on the sweet potatoes, as close together as you are able to, using the steel straws (or wooden spoons/chopsticks) to stop you from cutting all the way through the sweet potatoes.

Repeat with the other sweet potatoes.

Place the sweet potatoes on a parchment paper lined baking tray.

In a small bowl, add the extra virgin olive oil, thyme, sage, rosemary, salt, and pepper and stir to combine.

Brush the sweet potatoes with the olive oil/herb mixture.

Bake for 1 hour in a preheated oven at 400 degrees Fahrenheit, or until the bottoms of the sweet potatoes are dark golden brown but not burnt, pausing to baste the sweet potatoes with more of the oil mixture every 20 minutes.

Makes 8 servings of vegan hasselback sweet potatoes.
Notes
Use stainless steel straws, chopsticks, or wooden spoon handles to stop you from slicing all the way through the sweet potatoes.
Nutrition
Calories:
87
kcal
|
Carbohydrates:
13
g
|
Protein:
1
g
|
Fat:
4
g
|
Saturated Fat:
1
g
|
Sodium:
109
mg
|
Potassium:
219
mg
|
Fiber:
2
g
|
Sugar:
3
g
|
Vitamin A:
9222
IU
|
Vitamin C:
2
mg
|
Calcium:
20
mg
|
Iron:
1
mg
I'm Jennifer, the author at A Sweet Alternative. I create simple recipes made with nutrient-dense ingredients.