This vegan puttanesca pasta is full of bold, briny flavor. It's a delicious and hearty plant-based version of a classic, Italian-inspired pasta dish. Unlike traditional puttanesca sauce, this vegan version is made without anchovies but has no shortage of flavor, thanks to generous amounts of capers and olives in the sauce.
What to serve with this vegan puttanesca
If you're looking for a side dish or first course to pair with this puttanesca pasta, try some salad greens tossed with this simple maple vinaigrette dressing. It's easy to make and has a satisfying balance of sweet and savory flavors.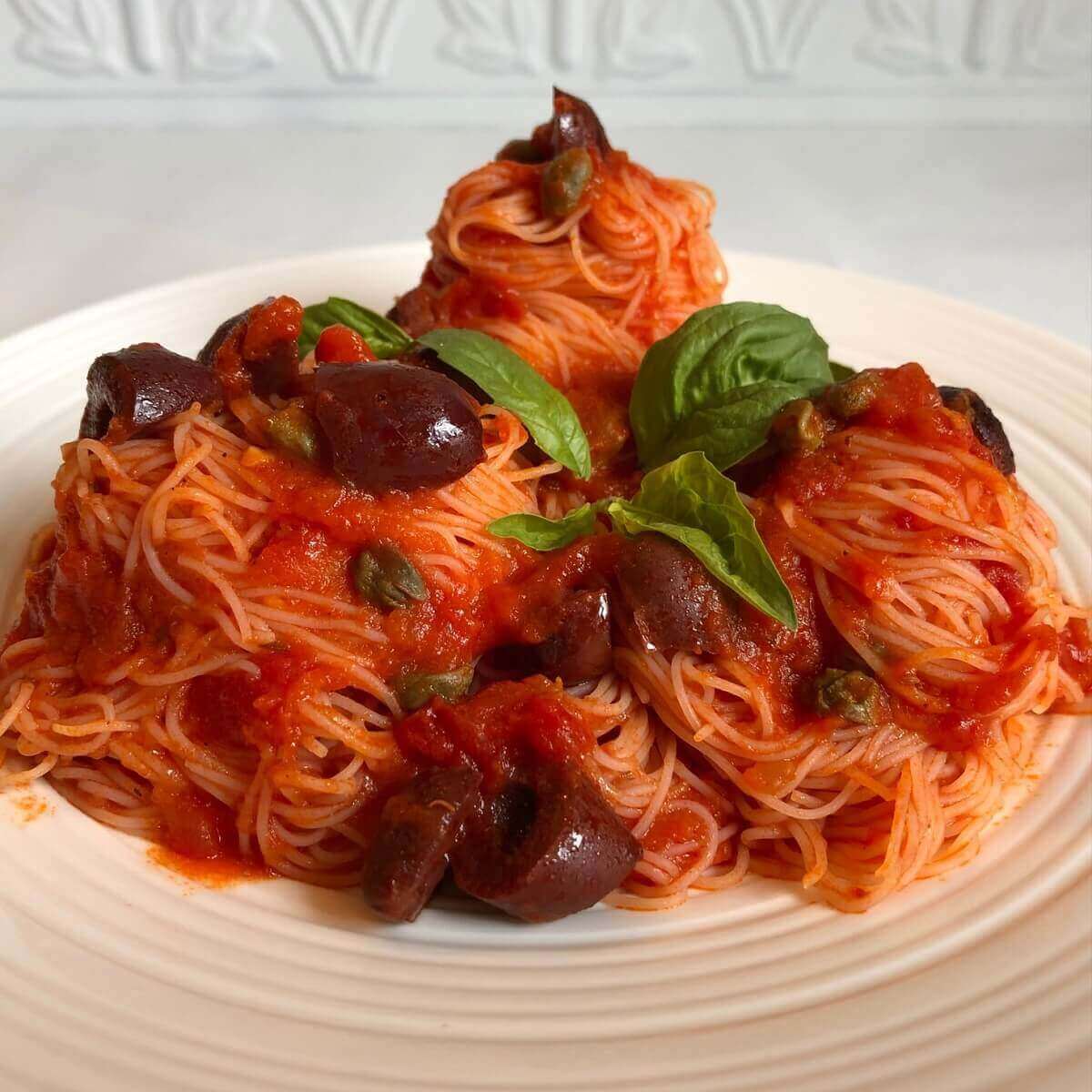 How to make it
This dish is really easy to make. Start by sautéing some garlic in a bit of extra virgin olive oil in a large pot on the stove. Don't allow the garlic to brown, just give it a quick sauté to cook the garlic through.
Next you'll add the strained tomatoes, dried oregano, and dried chilli flakes. You can substitute crushed tomatoes if you can't find any strained tomatoes (I like the strained tomatoes sold in glass jars that are made with Italian tomatoes).
You could also substitute fresh chopped tomatoes if you prefer. Just chop them up and toss them in the pot. You could also use a combination of fresh and canned tomatoes.
While the sauce is simmering, cook up your spaghetti according to the package instructions. I used gluten-free brown rice spaghetti, but you can substitute whatever type of pasta you prefer (and whatever shape pasta you like).
When the sauce is almost done simmering, you'll add the olives and capers so they'll have enough time to warm through and thoroughly flavor the sauce, but not so much time that they disintegrate.
Any type of olives work well in this vegan puttanesca recipe, but the bigger the better. I used Kalamata olives this time and cut them in quarters, leaving them nice and chunky.
The capers add an extra layer of salty, briny flavor to this dish, so definitely don't leave those out. Be sure to drain the capers before adding them to the sauce or the flavor of their brine will overpower the sauce.
The final touch that pulls this pasta dish together is a garnish of fresh herbs at the end. Either basil or parsley add a hit of freshness that goes nicely with the briny flavor of the capers and olives.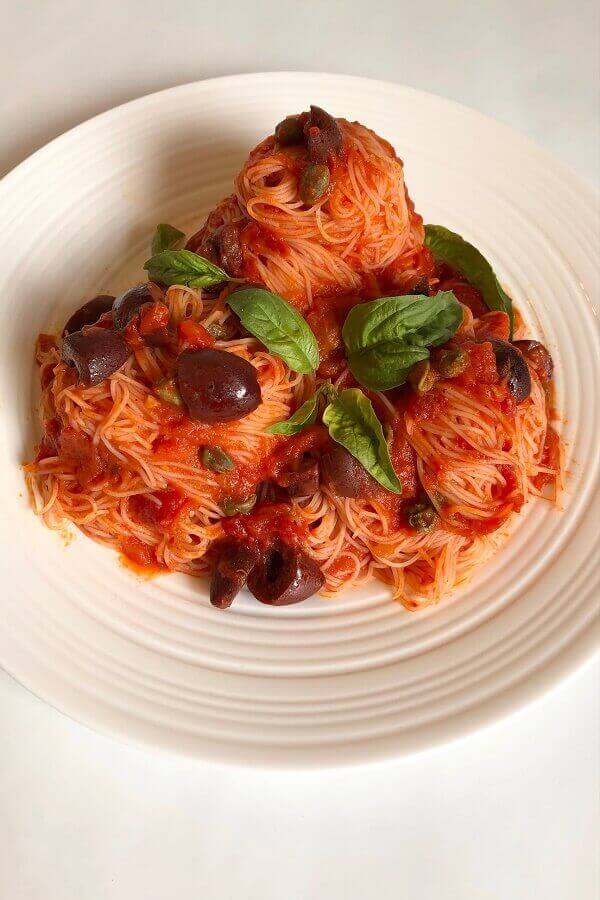 Storage
Store this vegan puttanesca in an airtight container in the fridge for up to three days.
More vegan dinner recipes
Vegan Puttanesca
This vegan puttanesca pasta is a plant-based version of a classic, Italian-inspired dish. It's made without anchovies. This dish is quick, easy to make, and perfect for entertaining.
Ingredients
340

grams

brown rice pasta

(or substitute your preferred pasta)

4

cups

strained tomatoes

(or substitute crushed tomatoes)

3/4

cup

olives

(pitted and cut in quarters)

1/4

cup

capers

(drained)

1

tablespoon

extra virgin olive oil

1

teaspoon

dried oregano

2

teaspoons

fresh chopped garlic

1/4

teaspoon

dried chilli flakes

Optional garnish:

fresh basil or parsley
Instructions
Add the extra virgin olive oil and garlic to a large pot on the stove and sauté on low heat for approximately one minute to cook the garlic.

Add the strained tomatoes, oregano, and dried chilli flakes, then simmer on low heat, uncovered, for 25 minutes.

Add the olives and capers and simmer for an additional 5 minutes.

While the strained tomato mixture is simmering, cook the spaghetti in a separate pot according to the instructions on the package.

Drain the pasta and add it to the pot with the sauce, then simmer for one minute so the pasta absorbs some of the sauce.

Optional: garnish with fresh basil or parsley.
Notes
Store this vegan puttanesca in an airtight container in the fridge for up to three days.
Nutrition
Calories:
303
kcal
|
Carbohydrates:
58
g
|
Protein:
7
g
|
Fat:
6
g
|
Saturated Fat:
1
g
|
Sodium:
689
mg
|
Potassium:
480
mg
|
Fiber:
8
g
|
Sugar:
8
g
|
Vitamin A:
448
IU
|
Vitamin C:
15
mg
|
Calcium:
74
mg
|
Iron:
2
mg
You might also like
I'm Jennifer, the author at A Sweet Alternative. I create simple recipes made with nutrient-dense ingredients.