This baked asparagus with balsamic vinegar and olive oil is an easy and nutritious side dish that's perfect during asparagus season. It's simple, quick, and requires just a few pantry staples and some fresh asparagus. Serve it alongside pretty much anything; the neutral flavours in this dish complement most main courses.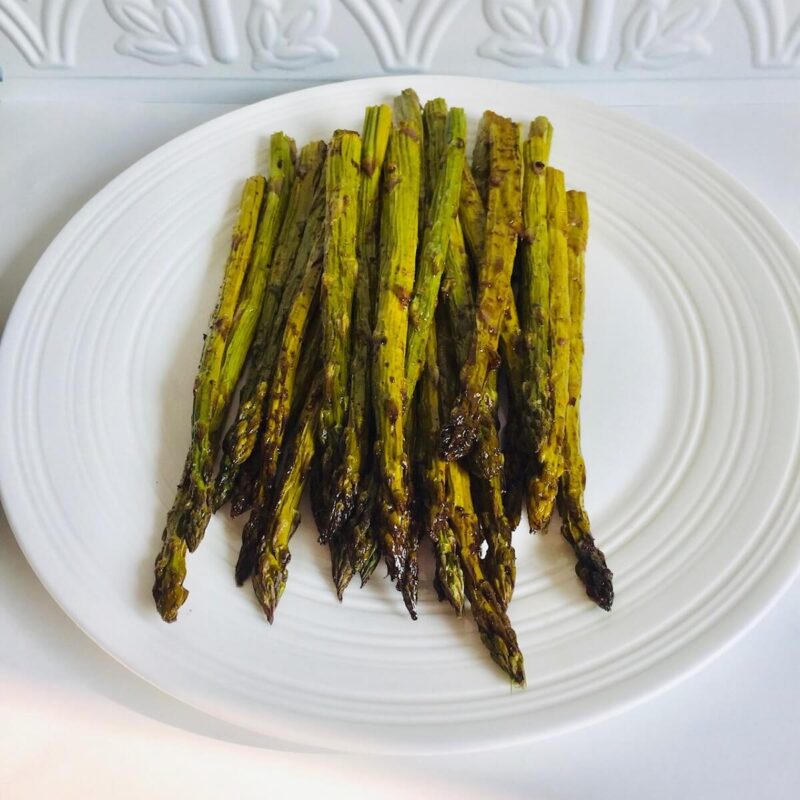 If you're making this recipe in the summertime and you'd prefer to avoid turning on the oven, use a toaster oven instead if you have one. I tend to do that in the warmer months and it definitely prevents my kitchen from heating up too much.
Main ingredients
This baked asparagus recipe really couldn't be much simpler. It's just some olive oil, balsamic vinegar, garlic powder (or fresh garlic if you prefer) and a little salt and pepper. The vinegar adds a subtle hint of sweetness and tanginess which complements the flavour of the asparagus nicely.

The best part about roasting asparagus, or practically any vegetable for that matter, is the slight caramelization you can achieve. The tips get just a little crispy when you bake them which adds a depth of flavour that is certainly missing from plain old boring boiled asparagus.

While grilling asparagus on a barbecue is also great for achieving some excellent caramelization, I find the width of the asparagus spears are too narrow and at least a couple of the asparagus spears inevitably turn in the wrong direction, fall through the grill, and meet a fiery death. I prefer the simplicity of baking asparagus.
Method
Even beginner cooks can make this baked asparagus recipe with ease. Start by preheating your oven to 350 degrees Fahrenheit. While the oven is heating, rinse and trim your asparagus. Cut off 1-2 inches of the thicker, woody ends of the stalks to ensure the end result is tender and delicious.
Alternatively, you can bend each asparagus stalk until it snaps and discard the short ends, but I prefer to simply line them all up on a cutting board and trim about 2 inches off the ends using a large, sharp knife.
Once the asparagus have been trimmed, place them on a parchment paper lined sheet pan. Add the rest of the ingredients then use your hands toss the asparagus to ensure they're evenly coated. The last step is to bake the asparagus until they're tender and the tips are slightly caramelized.
More vegan side dish recipes
If you're looking for another easy vegetable side dish, try this recipe for roasted okra. It's perfect when you're craving veggies but want something a little out of the ordinary. Or try this tahini pasta for something a bit more hearty and filling. It's rich, delicious, and easy to prepare.
Baked Asparagus with Balsamic Vinegar and Olive oil
This baked asparagus with balsamic vinegar and olive oil is an easy and delicious side dish that pairs well with most main courses.
Ingredients
30

asparagus spears

2

tablespoons

extra virgin olive oil

1

tablespoon

balsamic vinegar

1/4

teaspoon

salt

1/4

teaspoon

black pepper

1/2

teaspoon

garlic powder
Instructions
Preheat the oven to 350 degrees Fahrenheit.

Trim the asparagus spears to remove 1-2 inches of the wide ends and place on a parchment paper lined sheet pan.

Add the olive oil, balsamic vinegar, salt, pepper, and garlic powder and toss the asparagus spears around on the baking sheet until they are evenly coated.

Bake at 350 degrees Fahrenheit for 30 minutes or until the asparagus are tender and the tips are slightly caramelized.
Notes
You can prepare this baked asparagus in advance and reheat before serving or serve at room temperature.
Store leftovers in the fridge for up to three days.
Nutrition
Serving:
6
asparagus spears
|
Calories:
73
kcal
|
Carbohydrates:
5
g
|
Protein:
2
g
|
Fat:
6
g
|
Saturated Fat:
1
g
|
Sodium:
119
mg
|
Potassium:
194
mg
|
Fiber:
2
g
|
Sugar:
2
g
|
Vitamin A:
726
IU
|
Vitamin C:
5
mg
|
Calcium:
23
mg
|
Iron:
2
mg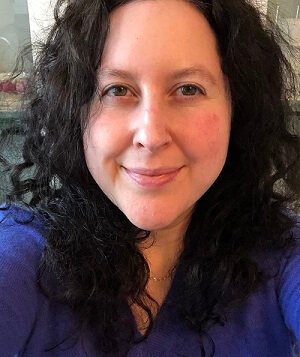 I'm Jennifer, the author at A Sweet Alternative. I create simple, gluten-free recipes made with nutritious ingredients.