These baked curried chicken thighs are tender, juicy, and so flavourful. Marinate the chicken in advance, then all you have to do is pop them in the oven for an easy yet impressive dinner.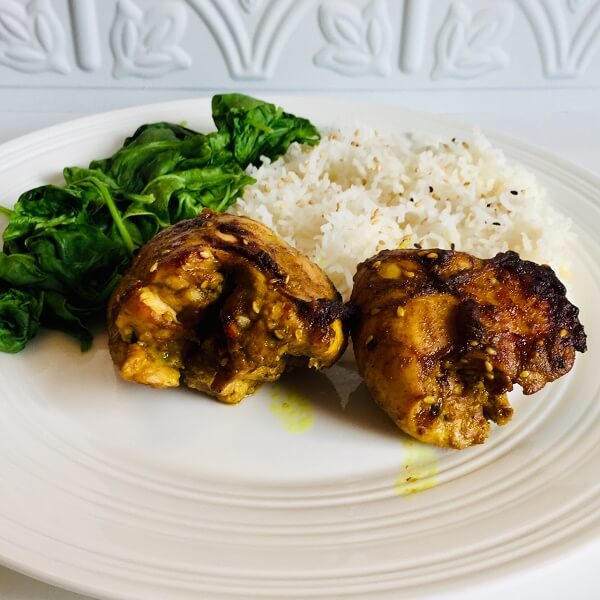 Main ingredients
This recipe calls for plenty of warm spices such as curry powder, cloves, and ginger. I opted to use dried spices as opposed to fresh ginger and garlic just to keep this recipe as easy as possible, but you can substitute the fresh stuff if you prefer.

The secret ingredient in this recipe is (surprisingly) yogurt. Yogurt tenderizes the chicken perfectly and keeps it unbelievably juicy. If you prefer to avoid dairy, you can substitute balsamic vinegar instead of the yogourt. I've made this chicken both ways and they're equally flavourful, but the chicken turns out a bit juicier when I use yogurt in the marinade.
Method
These baked curried chicken thighs are easy to make. Start by preparing the marinade. You can either do this in a large mixing bowl or a plastic freezer bag if you prefer. Add all the ingredients except for the chicken to your bowl, then stir (or swoosh it around in the bag a bit to mix everything together).
Next you'll add the chicken thighs, then stir to ensure they get evenly coated in the marinade. Allow the chicken to marinate for a minimum of eight hours, but 24 hours is better and 48 hours is better still.
Once the chicken is marinated, they're ready to bake. My preferred cooking method is to bake them in the oven on a parchment paper lined baking tray at 350 degrees Fahrenheit for 35 minutes or until the chicken is cooked through.
Alternatively you can grill this chicken on the barbecue at the same temperature, with the lid closed, but reduce the cooking time to about 12 minutes per side (or until the chicken is cooked).
More gluten free recipes to try
These vegan stuffed portobello mushrooms are a delicious plant-based meal for special occasions. They're gluten free and full of flavour.
Or try this easy frittata recipe. It's full of veggies and plenty of fresh herbs.
For a tasty and nutritious vegetable side to serve with this chicken, try this baked okra. It's perfect when you're craving something a little out of the ordinary.
Baked Curried Chicken Thighs
These baked curried chicken thighs are tender, juicy, and so full of flavour.
Ingredients
3

tablespoons

of plain yogurt

2

tablespoons

olive oil

2

teaspoons

curry powder

1

teaspoon

ground ginger

1

teaspoon

garlic powder

1/4

teaspoon

ground cloves

1/4

teaspoon

cayenne pepper

1/4

teaspoon

salt

2

tablespoons

sesame seeds

12

boneless skinless chicken thighs
Instructions
Add the curry powder, olive oil, yogurt, cloves, ginger, garlic powder, cayenne pepper, salt, and sesame seeds to a large mixing bowl and stir to combine.

Add the chicken and mix to ensure it's evenly coated with marinade.

Let the chicken marinate in the fridge for at least eight hours (to a maximum of 48 hours).

Place the chicken on a parchment paper lined baking sheet.

Preheat the oven to 350 degrees Fahrenheit, then bake for 35 minutes.

Makes 6 servings of baked curried chicken thighs.
Notes
For a dairy free version of this chicken, substitute balsamic vinegar instead of yogurt.
Nutrition
Serving:
2
chicken thighs
|
Calories:
337
kcal
|
Carbohydrates:
2
g
|
Protein:
45
g
|
Fat:
16
g
|
Saturated Fat:
3
g
|
Cholesterol:
216
mg
|
Sodium:
304
mg
|
Potassium:
598
mg
|
Fiber:
1
g
|
Sugar:
1
g
|
Vitamin A:
99
IU
|
Calcium:
62
mg
|
Iron:
2
mg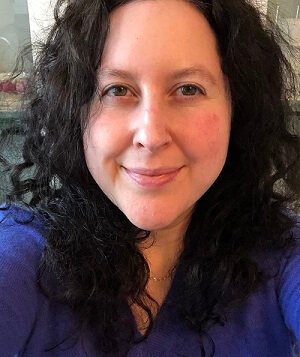 I'm Jennifer, the author at A Sweet Alternative. I create simple, gluten free recipes made with nourishing, nutrient-rich ingredients.