If you're tired of making the same old vegetables, add this oven roasted okra to your repertoire of easy vegetable side dishes. This dish is simple yet full of flavor and so delicious. It's perfect for busy weeknights but impressive and tasty enough to serve to dinner party guests.
Ingredients in this oven roasted okra
This baked okra recipe calls for only six simple ingredient (and only four if you don't count salt and pepper). I wanted to keep this recipe simple and let the flavor of the okra shine through, so it's seasoned only with salt, pepper, some freshly chopped garlic, and sesame seeds.
If you don't like sesame seeds (or you need to avoid them for allergy reasons) you can just omit them or substitute 1/2 teaspoon of your preferred dried herb. Thyme, rosemary, sage, or oregano are all good options if you don't want to use sesame seeds.
This dish works well with fresh garlic but in a pinch you can substitute 1/2 teaspoon of garlic powder if you don't have any fresh garlic or don't have time to peel and chop the cloves.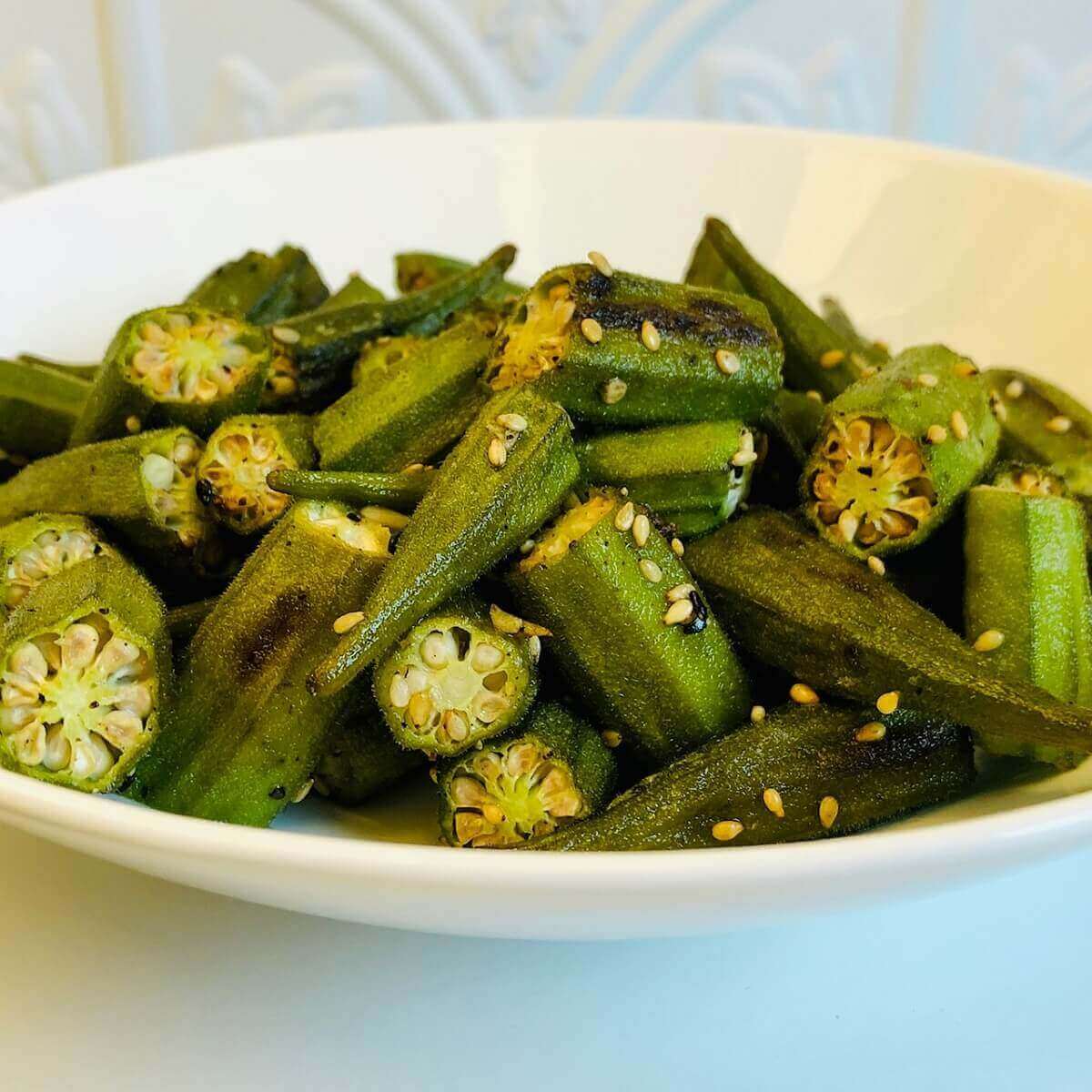 How to make it
The first step to getting this dish on the table is rinsing and drying the okra. Next you'll trim off the stem side of the okra and then cut them in half, width-wise.
Okra has a reputation for being a bit… slimy. If you're wondering how to make okra that isn't slimy, the trick is cutting it in half before roasting. That allows (most of) the slime to ooze out of the okra and evaporate during the baking process (don't read those last couple of sentences aloud to anyone you're making this dish for who is on the fence about whether or not they like okra. Trust me, it's delicious, trace amounts of slime notwithstanding).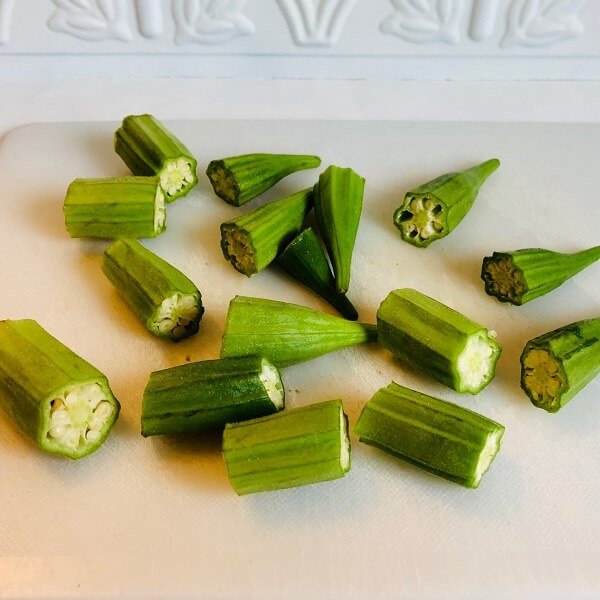 The next step is to line a baking tray with parchment paper and add the rinsed, trimmed, and cut okra to the tray.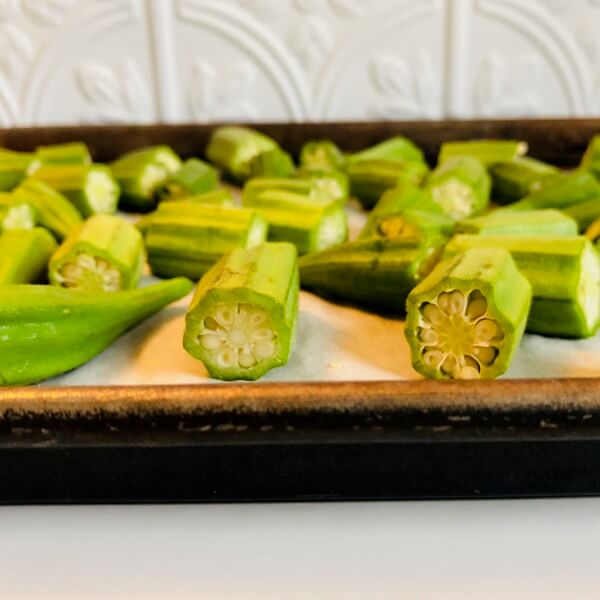 Then you'll drizzle the olive oil on top and sprinkle the salt, pepper, garlic, and sesame seeds. Then use your hands to toss the okra so each piece gets thoroughly coated with the oil and seasonings.
Next you'll pop the okra into the oven and be sure to pause halfway through baking to give the tray a quick shake so that the okra pieces roll around on the tray a bit. This ensure even cooking so that no sides of the okra end up burnt. Give this dish a try and I suspect it will make it into your regular rotation of easy vegetable side dishes.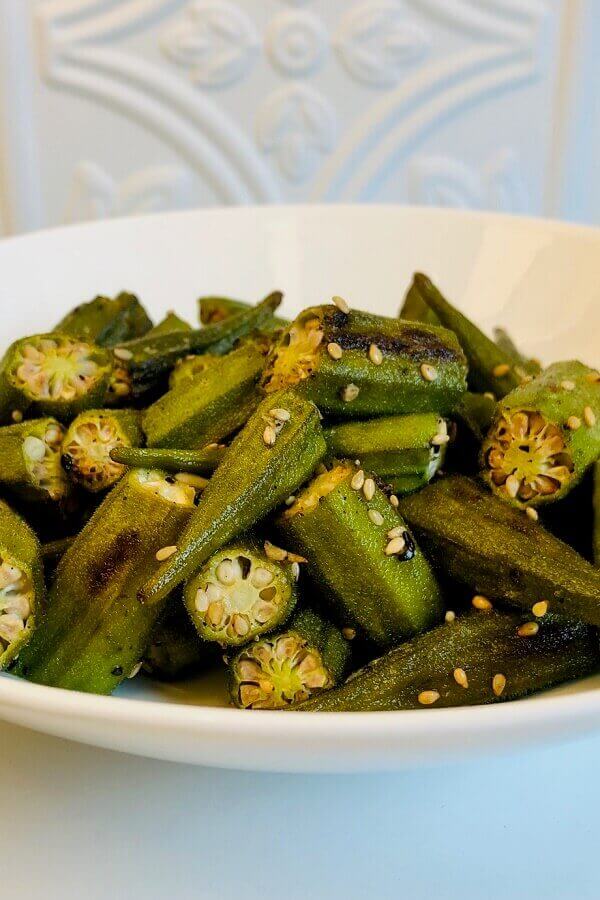 Storage
Store this oven roasted okra in an airtight container in the fridge, then reheat to your desired temperature before serving (or serve at room temperature if you prefer).
More vegan recipes to try
Oven Roasted Okra
This oven roasted okra is an easy vegan vegetable side dish that's perfect when you're craving something a little different. This dish is a great option for entertaining and can be prepared in advance.
Ingredients
4

cups

fresh okra

(chopped, width-wise)

1

tablespoon

extra virgin olive oil

1

teaspoon

sesame seeds

1

teaspoon

chopped garlic

1/4

teaspoon

salt

1/8

teaspoon

black pepper
Instructions
Preheat the oven to 350 degrees Fahrenheit.

Rinse and dry the okra.

Trim the stem side off the okra, then cut the okra in half, width-wise.

Place on a parchment paper lined baking tray.

Add the olive oil, sesame seeds, garlic, salt, and pepper on top of the okra and toss with your hands to ensure the okra is thoroughly coated.

Bake for 30 minutes at 350 degrees Fahrenheit, pausing after 15 minutes to shake the tray a bit so that the okra rolls around on the tray.
Notes
Be sure to shake the baking tray halfway through the baking process to ensure even cooking.
Cutting the okra in half before roasting prevents it from turning out slimy.
Store this oven roasted okra in an airtight container in the fridge for up to three days.
Nutrition
Calories:
68
kcal
|
Carbohydrates:
8
g
|
Protein:
2
g
|
Fat:
4
g
|
Saturated Fat:
1
g
|
Sodium:
153
mg
|
Potassium:
299
mg
|
Fiber:
3
g
|
Sugar:
1
g
|
Vitamin A:
716
IU
|
Vitamin C:
23
mg
|
Calcium:
87
mg
|
Iron:
1
mg
I'm Jennifer, the author at A Sweet Alternative. I create simple recipes made with nutrient-dense ingredients.